It's been over a decade since the final film in the Harry Potter franchise was released into theaters, yet there's still a lot of magic connecting the people who made them. Through messages on the internet, random meet-ups, and even a whole reunion special, the spell of friendship still runs strong with people like Tom Felton and Jason Isaacs. The man who played Lucius Malfoy himself reminded the world of that fact recently, as he took to social media to commemorate his on-screen son's 36th birthday. 
Finding himself at a bookstore in his recent travels, Isaacs used the opportunity to show even more support for Felton's book Beyond the Wand. Instead of the playful look of disgust he previously shared over the book with fellow Potter alum Rupert Grint, the actor behind the Malfoy patriarch took the time to be the sweetest "bad dad" in the world. The result was this charming photo and message, shown below: 
Tom Felton's friendship with the Event Horizon star is indeed one of the brightest spots in the chummy friendships within the Harry Potter cast. Throughout the 12 years after capping off the adaptations of J.K. Rowling's work with Harry Potter and the Deathly Hallows Part 2, we've seen these two pranksters poking fun at their villainous personas time and again. While Draco and Lucius are a prime example of what you wouldn't want to see in a father/son duo, the Tom and Jason show has been nothing but smiles and fondness.
This is why it was such a beautiful sight to see Tom Felton respond in kind to his fictional father. Sharing the message provided above on his Instagram Stories, The Flash actor took the time to properly thank Jason Isaacs with this short but sweet message: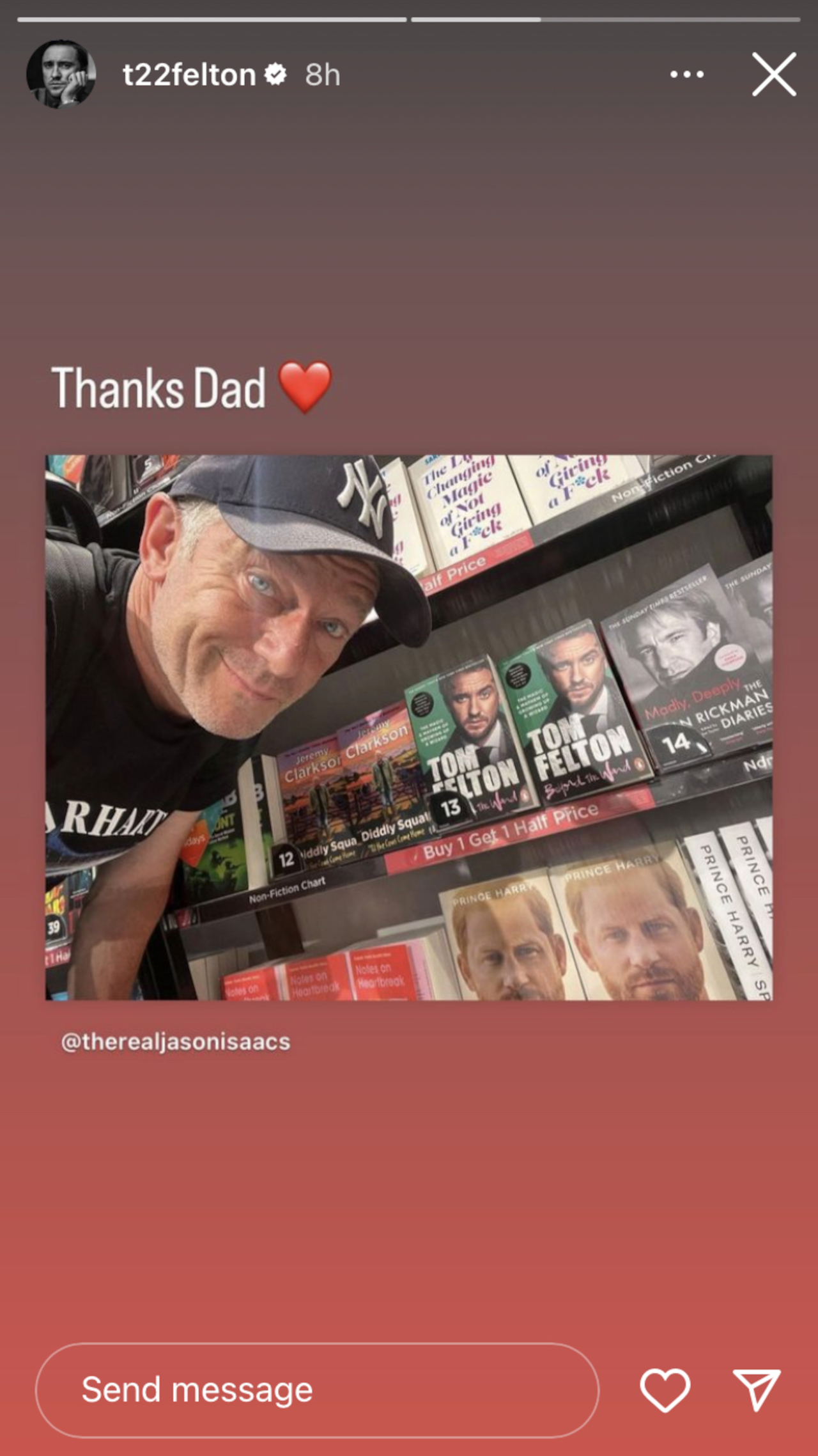 A proper Jason Isaacs birthday shout-out is shaping up to be an annual occasion for all Harry Potter fans, and Tom Felton, to look out for. In its own way, that sort of thing is reflective of the most powerful magic of all: love. A friendship that's still going strong over a decade after it was forged is even more reason to wish for an Isaacs/Felton reunion of some form on screen. 
Should that ever be in the works, let's hope that the characters they step into fully embody the good nature that these two men share in the real world. Or, if it's a return to their adversarial past, then may it be only the most cutting and cunning affair known to humanity, as their wits are sharp enough to carry such a task out.
As you might be looking to watch the Harry Potter movies to celebrate the season of the witch, you don't need to know any special spells to conjure this epic tale. All you need is a Peacock subscription, as that's where all eight parts of this cinematic opus are currently being streamed.